RECIPE: BERLINER CURRYWURST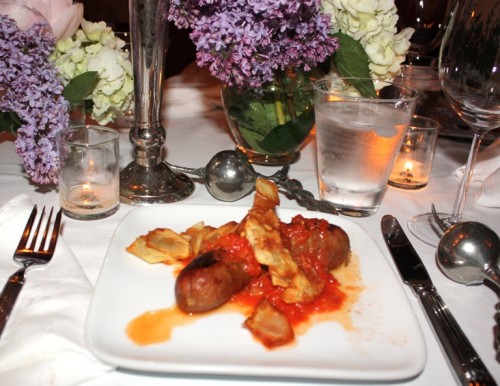 2 T. salt
2 T. white pepper
2 T. paprika
2 T. curry powder
1 T. turmeric
1 T. ground hot red pepper
2 t. mace
1/2 t. ground coriander seed
10 cloves of garlic, finely chopped
6 slices white bread, torn into bits
1 c. milk
3 1/2 lbs. beef; bottom round is a good choice
1 1/2 lbs. pork with some fat; boneless center pork chops work well
Soak bread and milk so it makes a mush.
Cut the meat into 1" chunks (or smaller, no larger or the feed tube to the grinder will get clogged). Grind the meat using the fine disk for the smoothest grind. Alternate putting in beef and pork to get a head start on mixing the meats together.
Put the ground meat into a large bowl and still in all the spices, garlic and bread mush, Grind the mixture a second time. Mix it all well in the bowl again to evenly distribute stuff, then grind it all a third time.
Prepare the casings, fit on the funnel feeder of your grinder and stuff the sausages. This how-to video is a good demo, even though this is for a different recipe.
CURRYWURST SAUCE
1 large Vidalia onion, finely chopped
2 T. cooking oil
2 cans whole peeled plum tomatoes, drained
1 t. hot pepper
1/2 c. sugar
1/2 c. white vinegar
s&P
Over a low heat, slowly cook the chopped onions until they are soft and translucent. Crush the tomatoes with your hands Tip: use your thumb to puncture the tomato first, then when you crush get you hand as deep into the pot as possible. Splashing is inevitable but this helps cut down on the mess. Add salt and pepper, sugar and vinegar and bring to a simmer. Simmer over lover heat, covered, for 45 minutes. Give it a stir occasionally so it doesn't stick to the bottom.
To assemble: grill or pan fry the sausages, and spoon the hot sauce over. For the extra-special touch, sprinkle on freshly made shoestring fries or small chips.


Print This Post
Share and Enjoy

Written by skfsullivan on May 25, 2011 under ALL RECIPES.