BERLINER CURRYWURST: ORIGINAL RECIPE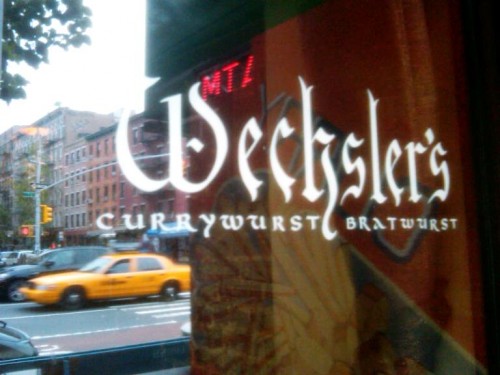 For those not yet familiar with currywurst, it's a favorite snack in Berlin with an ever-widening fan base, as evidenced by this window sign here in Manhattan. Though curry and German sausage might seem a strange combination, Laurie Colwin's timeless quote from Abraham Lincoln sums it up perfectly: "For people who like this sort of thing, this is the sort of thing they like."
Ferreting out a delicious currywurst recipe was high our must-do list during our recent stay at the über-glam Hotel Adlon, 7 Unter den Linden Stra§e. As pizza is to New York, so currywurst is to Berlin, and we came armed with recommendations for the absolutely best currywurst establishments in the city. And yet, and yet… there we were in the heart of the city. Just as the epicenter of New York's most celebrated slices is tucked away in Brooklyn, our list of Berlin's best currywurst outposts were off the beaten track.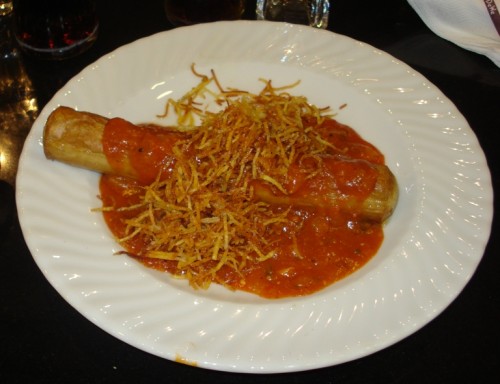 Berlin-savvy currywurst devotees will howl when they read this — we enjoyed our succulent currywursts in the grand food halls of the KaDeWe department store. KaDeWe is kind of like a Teutonic Harrods-meets-Macy's. What can I say? The currywurst special that day was scrumptious, the bustling counter was convivial, and the server's response to my query of the composition of met with an amusingly wry and slightly sinister "It's secret."
Currywurst is most often made with knockwurst but hot regular hot dogs or kielbasas are not unheard of. The Berlin renditions dress the wursts with a tangy tomato and onion sauce that is lightly dosed with curry powder. What made KaDeWe's special was the a final showering of hot, crunchy shoe-string potatoes. The KaDeWe special was tasty indeed, the sauce serving as a bridge between the meaty grilled wursts and the hot salty fries. Most enjoyable.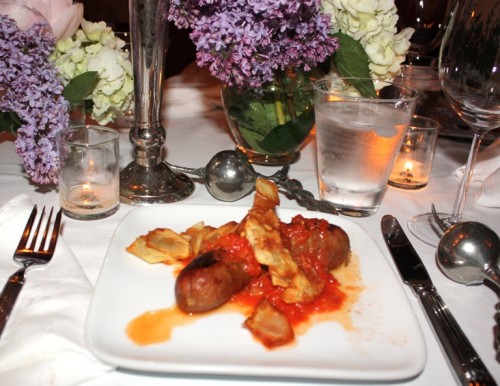 Still, giving curry headline status seemed a little misleading; this was an ensemble performance. Curry did not have the spotlight; it was more like, well, think of the Radio City Music Hall Rockettes. Amidst all the flash and dazzle of long-limbed blonde glamazons you sometimes notice a lovely Asian dancer in their midst. She fits in perfectly, that's the whole point of the Rockettes. But that one girl doesn't transform the Rockettes into the Asian Follies.
Back at home, I set my sights on a CURRYwurst. My strategy: rather than a plain knockwurst, I super-dosed the sausages with curry and other spices. The sauce wasn't too hard to duplicate (take that Mr. Sausage Counterman — perhaps you previously had a gig with the East German Stassi…?). I checked out a few online recipes to for guidance. My twist was not adding curry powder to the sauce. I wanted the punch of curry in the sausage to be the scene stealer, so the tangy sauce became the scenic backdrop. The flutter of freshly fried potato slivers were like reflections from a spotlight hitting a glitter ball.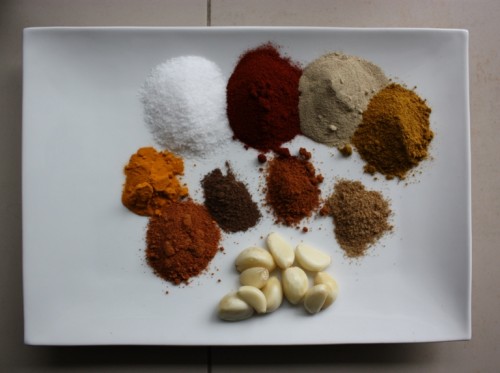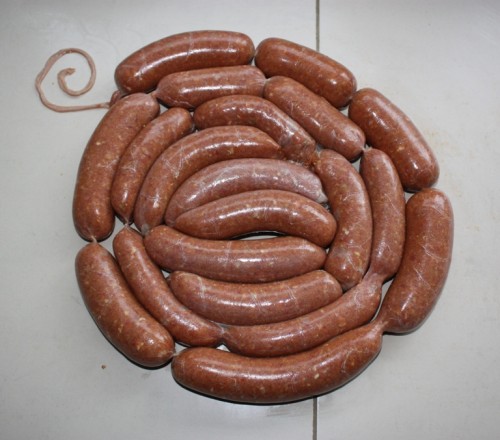 So, to review: make the sausages and sauce in advance. Grill or pan fry the sausages and spoon the sauce over. At the very last minute fry some slivers of potatoes in cooking oil until golden brown, drain and salt well and sprinkle on top.
Click her for the recipe for Berliner Currywurst and its sauce.
Share and Enjoy

Written by skfsullivan on May 25, 2011 under Charcuterie, Main Dishes.