RECIPE: PAGLIA E FIENO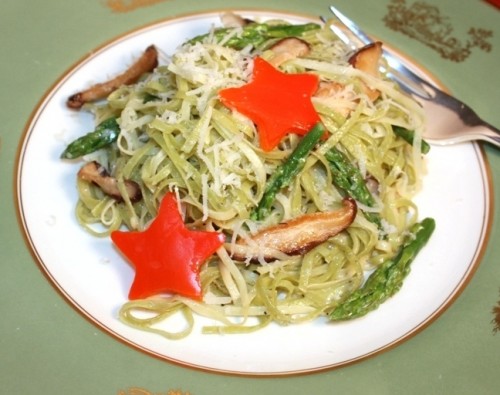 1/2 bunch pencil-thin asparagus, tips only (@ 20 in all)
1 red pepper, cored, seeded and cut into decorative shapes with a cookie cutter. Stars are very nice.
5 large shiitake mushroom caps, sliced thinly
8 oz. good dried egg pasta, such as tagliolini
8 oz. of the same brand/variation of pasta in the spinach version
1 c. heavy cream
1 c. grated Parmigiano or similar but stronger cheese like Grana Padano Stravecchio
1 1/2 t. bacon grease
1 1/2 t. butter
In a large sauté pan cook the mushroom slices in the bacon grease and butter 'til softened and slightly browned.
Get a big pot of boiling water going. Blanch and soften the asparagus tips for 2-3 minutes, remove with a sieve or slotted spoon and shock under cold water to hold the color. Prepare the pasta according to packaging instructions in the same boiling cauldron. (This Ciprianni tagliolini took just three minutes.) Add the pepper stars for the last two minutes of the pasta boil to soften them a little. Drain well. Pick out the pepper stars and set aside.
Toss the drained pasta, asparagus tips in the mushrooms and the bacon and butter remaining in the pan. Get everything hot hot hot. Mix in the cream well, then bind it all together with the grated cheese. If you are serving a la Kemoll's, table-side, grating a fresh chunk of cheese with your Mouli grater is essential. There's no drama in pre-grated cheese. S&P of course. More Mouli-ed cheese when you serve.
A note about the red pepper stars: if you're doing the toss in the kitchen, you can leave the stars aside for artful placement on top of each serving. If you're going the table-side route, mix the stars into the tangle. Adding them afterwards doesn't strike the right note. Cheese and sauce don't adhere to the peppers very well so they won't be obscured, though assemble out of site allows you to place the starts just so.

Print This Post
Share and Enjoy

Written by skfsullivan on January 19, 2011 under ALL RECIPES.