RECIPE: HUITLACOCHE MAC AND CHEESE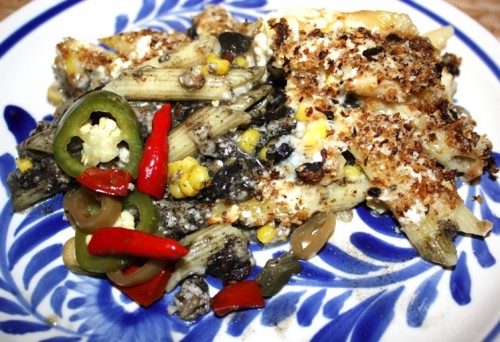 7 oz. can Huitlacoche/cuitlacoche
8 oz. queso blanco
8 oz. Manchego cheese
1 lb. sharp white cheddar cheese
1/2 oz. dried porcini mushrooms
1 lb. penne rigati
2 c.corn kernels (fresh if you can, frozen when you can't, canned if you must)
1/4 c. panko bread crumbs
1 slice stale white bread
3 T. white truffle oil
3 T. butter
3 T. flour
3 c. whole milk
3 bay leaves
s&p

Cuisinart the dried porcinis, panko and stale bread into fine crumbs.
Separately, Cuisinart the cheeses into a fine crumble.
Melt the butter in a medium sauce pan, and when it bubbles add the flour. Cook, stirring, for 3 minutes until the roux darkens just a bit. Add the milk and bay leaves and simmer for 10 minutes. Now's a good time to add 1/2 t. or so of salt and 4 good grinds of black pepper.
Fold in the cheeses and stir to melt and incorporate thoroughly. Then stir in the corn kernels.
Did I mention that while all this is going on you're also cooking the pasta? Well you are.
Butter a pretty baking dish. Fold together the melted cheese sauce and the drained pasta. Spread half over the bottom of the dish. Use a spatula to evenly spread the huitlacoche over this first layer. Then carefully add the rest of the mac and cheese, using care not to disturb the black layer. Keep it concealed — it's all part of the surprise!
Moisten the porcini crumb mixture with the truffle oil and sprinkle evenly over the top. Bake at 350° for 30 minutes or longer. You want nice bubbles all around the edges and the topping to brown and crisp.
Serve with pickled peppers.

Print This Post
Share and Enjoy

Written by skfsullivan on November 5, 2010 under ALL RECIPES.