RECIPE: ESCABECHE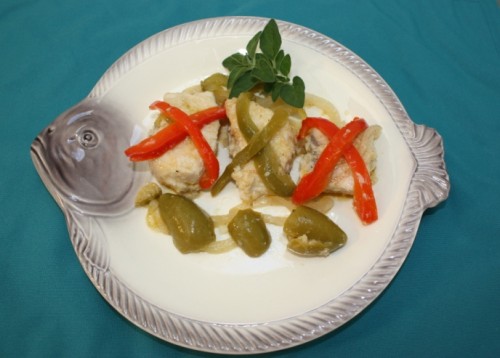 1 1/2 lb. swordfish steaks, skin and any dark flesh removed. Cut the steaks into uniform 2" x 3" pieces (as best you can)
s&p
juice of 2 limes
1 c. olive oil
flour for dredging
1 large onions sliced into thin rings
1 green bell pepper sliced into this strips
1 red bell pepper sliced into thin strips
6 garlic cloves, crushed
8-10 large green Spanish olives, smashed to remove pits
2 bay leaves
1 c. white vinegar
flour
Season the fish with salt and pepper and the lime juice, and let marinate for an hour at room temp.
Pat the fish dry, dredge in flour and shake off excess. Heat 1/4 c. of the olive oil in a skillet and cook the fish, lightly browned on both sides. Cook through but don't over-cook. Place the steaks in a non-reactive dish with a cover (Corningware make nice white ceramic pans with tight-fitting plastic lids.) Let the fish cool.
Put the remaining olive oil in the pan, heat it up and cook the peppers, onion and garlic until everything is soft. Add the olives, bay leaf and cook for a few minutes more to blend the flavors. Add the vinegar, bring the mixture to a boil. Remove from heat and cool completely.
When the liquid and fish are cool, pour the vegetable mixture over the fish. Secure the top of the container, and turn up side down a few times to slosh the liquid around. Marinate in the refrigertor for at least five days, turning the container over once a day.
When ready to serve, bring to room temperature and arrange the fish on plates or a platter and decorate with the strips of pepper, onion and olives. Fresh oregano is a nice garnish and geting a bite of the fresh oregano leaf adds to the enjoyment of the escabeche.

Print This Post
Share and Enjoy

Written by skfsullivan on June 28, 2010 under ALL RECIPES.