RECIPE: SHRIMP SCALLOP GREEN MAYONNAISE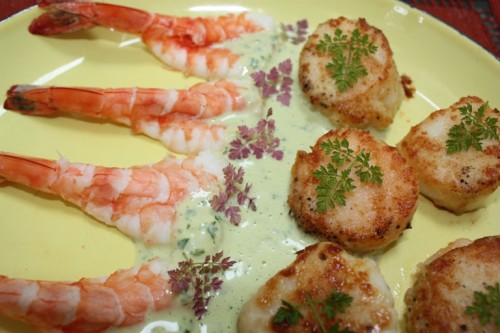 12 large shrimp
12 sea scallops
1/4 cup packed fresh parsley leaves
1 T. paced fresh thyme leaves
2 garlic cloves
1 t. anchovy paste
1/2 t. capers
5 large green olives, cracked with a hammer to remove the pits
1 egg + 1 egg yolk
2 T. fresh lemon juice
3/4 c. extra virgin olive oil
s&p
Flour for dusting the scallops

Prepare the shrimp: insert a toothpick into each shrimp just under the top line of the shell. This will keep the shrimp from curling up when you cook them. Simmer them for 2 minutes, drain and let cool. Remove the toothpicks, shell the shrimp, leaving the tails on for decorative purposes. From the underside cut the shrimp almost all the way through, so that when you press down on them they flatten out into a triangular shape.
Salt and pepper the scallops and dredge in flour, shaking off excess. Film a pan with olive oil and sauté for about 4 minutes per side, until cooked through and browned. Remove and let cool to room temp.
Make the mayonnaise: In a food processor blender, chop the herbs, garlic, anchovy paste, capers, olives, lemon juice and eggs until as smooth as possible. With the motor running, pour in the olive oil in a thin stream. Continue to process until everything is well emulsified and the color is consistent — we're not going for rustic green flecks, a shiny pale green sauce is the goal. The sauce will thicken up a bit after standing.
Assemble the shell fish on a serving platter. Artfully apply the sauce — you could create puddles and place the shrimp and scallops on them, drip squiggles of sauce over everything, or as I did here, place everything neatly and create a little river of mayonnaise down the middle. I used chervil leaves to garnish — they're so delicate and tiny and the contrast between the green leaves and the purple are so nice.

Print This Post
Share and Enjoy

Written by skfsullivan on June 16, 2010 under ALL RECIPES.