RECIPE: LONG ISLAND BOUILLABAISSE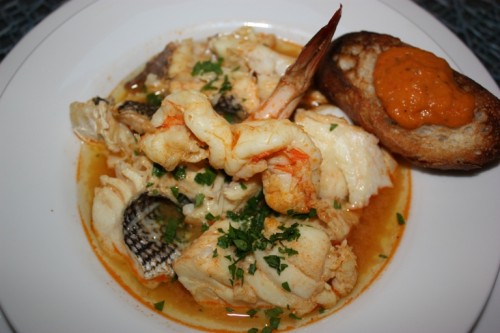 1 onion, roughly chopped
2 leeks, rinsed clean, roughly chopped
1/4 c. olive oil
6 cloves garlic , smashed
28 oz. can crushed tomatoes
1 bulb of fennel, roughly chopped
2 1/2 qts. water
6 parsley sprigs
1 bay leaf
1/2 t. thyme
peel of 1/2 an orange
1 t. each salt and pepper
fish heads and bones
2 pinches saffron, soaked in 1 T. water at least 30 minutes

Rouille:
1 red bell pepper
1 jalapeno pepper
4 cloves garlic, smashed
1/2 t. dried basil
4 T. olive oil
1 small potato, peeled
The fish:
1 whole porgy, filleted, carcass saved for soup
1 whole sea bass, filleted, carcass saved for soup
1 striped bass, filleted, carcass saved for soup
1/2 lb. flounder filet
3/4 lb. cod filet
1/2 lb. bluefish filet
4 jumbo shrimp
halibut bones for soup
To finish:
slices of toasted baguettes
grated parmesan cheese
chopped parsley
Make the soup: heat 1/4 c. olive oil in heavy soup pot. Add leeks and onions, cook 'til softened but do not brown, about 5 minutes. Add the garlic, fennel, tomatoes, bay leaf, orange peel, parsley sprigs, thyme and s&p. Bring to a boil and simmer five minutes. Add the water and the fish scraps. Stir and push down so all the bones are submerged. Simmer for 45 minutes. (Cook the potato in the soup for 25 minutes, text for doneness, then remove.)
Meanwhile make the rouille: broil the peppers on all sides until charred all over. Remove from broiler pan and put in a bowl, covered, for 5 minutes, to soften the peppers so they totally collapse. Remove the charred skin, scrape out all the seeds. In a blender, mix the peppers, garlic, basil and olive oil into a smooth paste. Remove from blender. Pass the potato through a food mill or ricer, and stir into the pepper mixture so it's smooth and well incorporated.
Back to the soup. Remove from heat and using tongs pick out all the big pieces you can and toss them out. With a slotted spoon get the smaller pieces. Toss them too. Then, with a food mill securely placed over a second soup pot, ladle in the soup. The liquid will run through. Give the food mill 5 or 6 turns to extract remaining soup. Don't go at it so vigorously as to force all the solids through, the goal is to just to extract the most soup. Yes small bits of fish and vegetables will come through. This is good, it adds a little body. Repeat, tossing all the solids that don't go through the food mill. Place this new soup pot on the stove and stir in the saffron/water mixture.
Pull out all the pin bones from the fish filets. Cut the fish filets into halves. Score the skins of the fish that have them. Peel and butterfly the jumbo shrimp, cutting all the way through at the thick end to get the nice curly wings when they're cooked. Layer all the fish into the soup, bring to a low boil, and simmer for about 10 minutes until all the fish is cooked through. Stop before the fish begins to fall apart, you want recognizable pieces.
To serve:
First, ladle out the soup alone (no fish pieces) into hot soup bowls, and top with a slice of toasted bread with a good slather of the rouille. Enjoy this as the first course.
Next, divide the fish pieces into another set of soup bowls, trying to get as many different types of fish in each. Top with a light dusting of the grated parmesan and a sprinkle of chopped parsley. Spoon in a bit of the not soup to moisten it just a bit, but keep in mind this is the solid course, not another soup. Serve with more rouille toasts.

Print This Post
Share and Enjoy

Written by skfsullivan on May 16, 2010 under ALL RECIPES.