Nachos Olga
Olga Breeskin, the incomparable Mexican superstar ("Super Olga" and "La Numero Uno" to her legions of fans), parlayed her early success as a child-prodigy violinist into a fully (extremely fully) fleshed-out paragon of sensuality and excitement in live performance, television and film. During the 1970's and 80's she held our neighbor to the south in her thrall with her Las Vegas-style extravaganzas, performing nightly to sold out crowds of Mexico City's cognoscenti and plutocrats. This nacho recipe captures the thrill of her live performances. Fresh out of college I won a place in Olga's spectacular "Super Olga Ochenta y Tres." YouTube is brimming with examples of Olga's splendor in action — this link gives but a small glimpse of the depth and range of her artistry: http://www.youtube.com/watch?v=YAyrfOB07UU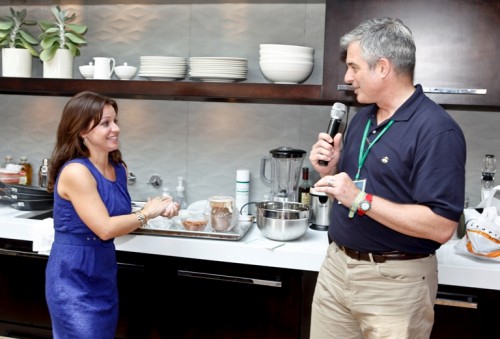 Our special Kitchen of the Year guest Christy Vega from the famous Casa Vega featured on Flipping Out is actually a pal of Olga's!
If Dame Nellie Melba was worthy of the Escoffier-inspiration Peaches Melba, and Luisa Tetrazzini secured her own place in culinary history (as previously noted here on Spectacularly Delicious), I ask you: does not Olga Breeskin deserve elevation into this pantheon of immortals as well? And thus Nachos Olga has been born.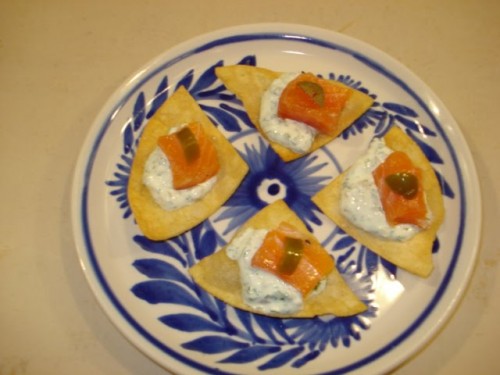 Building on a base of freshly-crisped corn tortillas or "totopos" (don't even THINK of commerically packaged taco chips!), Nachos Olga are crowned with voluptuous, home made gravlax cured in cilantro and tequila. And jalapenos of course, in recognition of the heat her performances engendered. As her father was a Russian emigree, this felicitous union of cured salmon and crunchy tortilla celebrates the cultural convergance that allowed a gifted, young, classically-trained violinist to capture the hearts of Mexicans as their most beloved "vedette."
2 lbs fresh salmon filet cut in two equal pieces
1/3 c. kosher salt
1/3 c. sugar
1 T. pepper corns and 1 T. cilantro seeds, coarsely cracked in a mortar and pestle
1 bunch of cilantro
1 "mini" bottle of tequila (50 ml)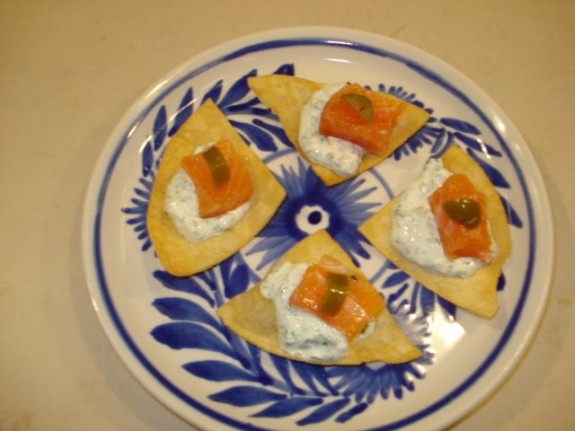 Mix the salt, sugar, pepper and cilantro seeds and spread evenly over the flesh sides of the two salmon filets. Rub the cilantro bunch in your hands to bruise the leaves and lay them on top of one piece of salmon. Put the other piece on top of that — flesh facing flesh — and place in a plastic bag, the kind that seals completely. Pour in the tequila, press out any extra air, and seal tightly. Refrigerate for at least 3 days, turning every 12 hours or so. Remove from the marinade, wipe off the herbs and spices, remove the skin and cut into 1" chunks. The cured gravlax keeps well in the refrigerator for two weeks.
TOTOPOS
Slice 6" corn torillas into quarters and fry in medium hot oil until lightly browned, about a minute. Remove from oil, drain on paper towels, and sprinkle with a bit of salt while still warm. Make as many as you think you'll serve, allowing at least four per person.
MEXICAN SOUR CREAM SALSA
1 c. sour cream
1/3 red onion, minced
1 T. pickled jalapeno, minced
small handful of cilantro, finely minced
1 T. fresh lemon juice
salt and pepper
Mix well.
NACHOS OLGA
On each totopo place a teaspoon of the sour cream salsa, top with a chunk or two of the gravlax, and garnish with an additional bit of pickled or fresh jalapeno. Serve immediately.
Olga's theme song is "Todos Queremos Ver a Olga" (Everyone Wants to See Olga) — you'll have them belting out "Todos Queremos Ver a Nachos Olga!" in no time.

Print This Post
Share and Enjoy

Written by skfsullivan on November 30, 2009 under Appetizers, Fish and Seafood.