RECIPE: SOFT SHELLED CRABS BALABAN'S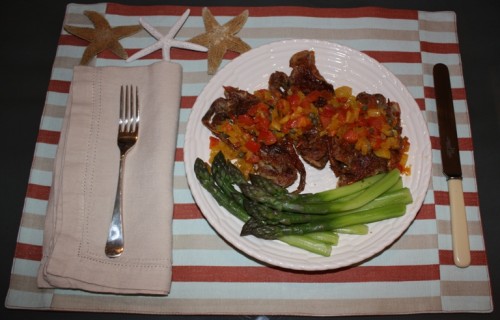 6 soft shelled crabs, cleaned
enough milk to soak them in
1 fennel bulb, diced
3 plum tomatoes, cored, seeded and diced
1 large shallot, finely diced
a hefty pinch of saffron
1 c. dry white wine
juice of 1 lemon
2 t. capers
Tobasco
butter and olive oil
s&p
Soak the cleaned crabs in the milk for an hour.
Meanwhile, sweat the diced fennel and shallots in butter 'til soft. Add the tomato dice and the wine, and cook down to reduce the wine so the vegetable mix is moist but not drippy. Add the lemon juice, capers, and a few shakes of Tobasco and the proper amount of salt and pepper. Hold in a warm place until ready to cook the crabs.
Drain the crabs and dredge in flour seasoned with salt and pepper, covering well but shaking off the excess. Get a generous amount of butter and olive oil (2 to 1 ratio) good and hot in a large sauté pan. Add the crabs and cook for 3 minutes or so on both sides. Cover the pan with a splatter shield to avoid pops of grease. Make sure both sides of the crabs are nicely browned and crisp. It's okay to turn them once or twice to ensure perfectly done specimens.
Reheat the fennel topping and spoon over the crabs. Devour as slowly as you can to prolong the pleasure.
[print_recipe]

Share and Enjoy

Written by skfsullivan on June 7, 2011 under ALL RECIPES.