RECIPE: COQUILLE ST. JACQUES CREPES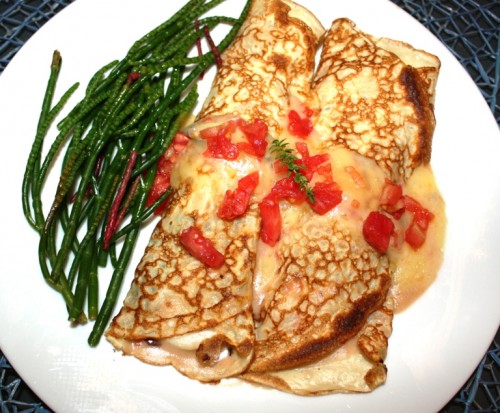 1/4 c. dry white wine
1/4 c. dry sherry
1 c. water
2 T. minced shallots
1 bay leaf
2 sprigs fresh thyme
5 medium shiitake caps, sliced thin
1 lb. sea scallops, sliced in half to make two disks each (not half-moons)
2 plum tomatoes, peeled, seeded, diced and set in a sieve to let excess moisture out
8 crêpes (click for basic recipe)
4 T. butter
4 T. flour
1/2 c. whole milk and the remaining, reduced poaching liquid (see below)
s&p
juice of half a lemon
1/2 c. grated Swiss cheese + extra grated cheese for topping
Thyme stems for garnish
Poach the bay and thyme in the wines for five minutes. Add the scallops and the mushrooms, and poach them for five minutes. Remove scallops and mushrooms, and reduce the liquid by half to about 3/4 c. Remove the bay and thyme.
Make the sauce: cook the flour and butter in a sauce pan for two minutes until the raw flour flavor is gone. Whisk in the milk and poaching liquid, and whisk it all together, bring to a simmer and whisk for a minute more. Add salt, pepper, lemon juice, and half of the diced tomato. Add the scallop mushroom mixture and stir in the cheese over low heat until it's well incorporated.
Roll a spoonful of hot filling inside each crêpe, sprinkle with the remaining Swiss and run under a hot broiler 'till the cheese is melted and things are crisp around the edges. Garnish with the remaining diced tomato and thyme sprigs.

Print This Post
Share and Enjoy

Written by skfsullivan on December 30, 2010 under ALL RECIPES.