RECIPE: SOLE VERONIQUE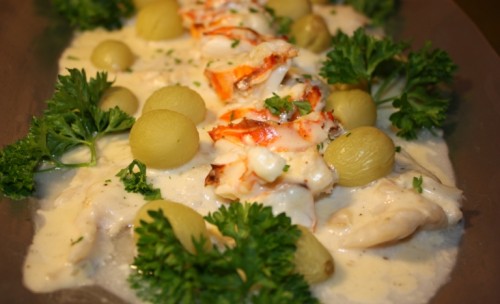 3 lemon sole filets, @ 1 1/2 lbs. in all
2 rock lobster tails
8 oz. bottle of clam juice
3 sprigs of fresh thyme (I used lemon thyme, thanks to the bounty of my herb jardiniere)
1 c. seedless white grapes (whole)
1/2 c. dry sherry
juice of one lemon
2 T. finely minced shallot
2 T. butter
1 T. butter mixed well with 1 T. flour
1/2 c. heavy cream
Chopped parsley and parsley sprigs for garnish
S&P
Poach the rock lobster tails in the clam juice with the thyme sprigs added. Use a small covered pot with a tight fitting lid, so you don't have to worry if the tails aren't completely submerged. Remove the tails, let cool. Keep the clam juice. Take the shells off the lobster tails and slice the meat into 1/4" medallions.
Put the sherry in another small pan, add an additional 1/2 c. of water, and poach the grapes for two minutes. The skins will burst and get just a little bit shriveled. Take off from the heat, let stand until the grapes cool, then take the grapes out of the liquid. Fish out the thyme sprigs from the clam juice and add that to the wine liquid. Add the lemon juice. This is the base of your sauce.
Place the platter or pan you will serve Sole Véronique in in a 170° oven to warm.
In a sauté pan that will hold the filets snugly, cook the shallots in the 2 T. butter for a couple of minutes until the shallots have softened. Lay in the sole filets, and pour in the wine/clam juice liquid. While you wait for the liquid to come to a simmer, cut a round of wax paper to fit over the pan. This will trap the moisture but won't build up steam, as a lid would.
Poach the fish until just done, about 3-5 minutes. Do not over cook, you want the filets to stay intact. Carefully remove the filets to the warm serving platter and cover with the same piece of wax paper. Return to the oven to keep warm.
Now turn the sauté pan heat up high and boil down the liquid by half. Whisk in the 1 T. butter mix with 1 T. flour and stir constantly, boiling, to thicken the sauce. When the floury taste has cooked off and the sauce is nice and thick, add the cream and heat through. Add salt and pepper.
The rest is easy. Place the lobster medallions on top of the sole filets in an attractive pattern. (I went for a simple straight line.) Neatly spoon the sauce over everything, then place the grapes around the dish in a devil-may-care manner. Return the platter to the oven, turn on the broiler, and cook just until things begin to blister a bit. Keep an eye on it, you don't want it browned.
Sprinkle with the chopped parsley and tuck the sprigs of whole parsley immediately.
Share and Enjoy

Written by skfsullivan on June 19, 2010 under ALL RECIPES.