Aebleskiver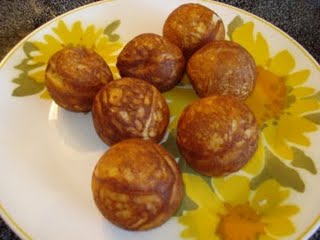 We love having guests out for the weekend. Steve is extrememly accomplished in the breakfast baked-goods category, thanks to those years running our B&B here in East Hampton, Georgica Bend. He hasn't written his tell-all memoir yet, though he's got the title ready: "Yesterday's Muffins."  One of his favorites (and mine too) is my recipe for Aebelskivers.
So who doesn't love hot pancakes, or a toasty waffle, perhaps rich and eggy French toast or the elegant crepe? No one, of course, but then again, though those are scrumptious, always welcome and appreciated, when the occasion merits a little dazzle, nothing beats the Aebleskiver.
Written by skfsullivan on October 11, 2009 under Breakfast.